This 3rd and 4th of May, Musik Reisen Faszination and Viajes Tauro will celebrate one more year in Calella a great International choir festival that will congregate in our municipality, assistants from different countries to enjoy this singing contest.
The Choral Singing Festival will take place mainly in the Parish Church of Santa Maria and Sant Nicolau in Calella as well as the parade through different corners of Calella.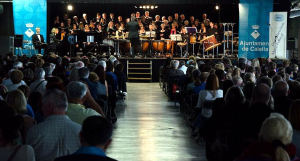 This year we will receive arround 400 people from 5 different countries.
It is always good to promote the cultural and economic activity of our city, and an event of these characteristics always favors the economic sectors of tourism, restoration and local commerce.
Free entrance for all the people who wants to join!